Not to be confused with Lumba Berries.
"No other food tastes more divine, or leaves the dinner more satisfied. But a person who regularly consumes the berries rarely lasts long."
— Drake
Pie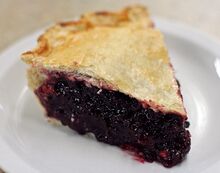 Lumba Berry Pie us a type of pie filled with Lumba Berries. It is said to taste divine and starves your body of nutrients, causing a slow death. They are first mentioned by Drake when he meets Jason at Harthenham Castle.